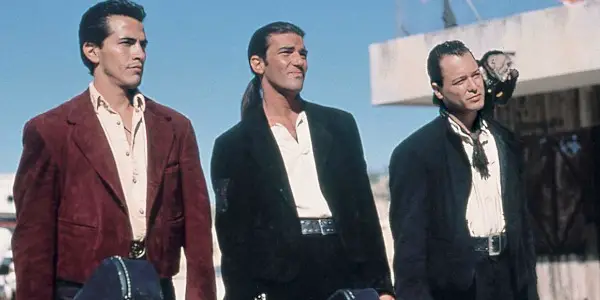 The El Mariachi "re-maquel" brought director Robert Rodriguez to a worldwide audience with an explosive statement that had Steve Buscemi, Quentin Tarantino, and a bucketload of bullets going for the hard sell. A shoot 'em up tale of vengeance, Desperado wastes little time with convoluted narratives, instead investing in creatively choreographed villain culling as The Mariachi (Antonio Banderas) fights his way onwards and upwards towards the Big Bad, Bucho (Joaquim de Almeida).
The Rodriguez and Tarantino partnership blossomed from here, going on to produce memorable movies From Dusk Till Dawn, Grindhouse, and Sin City. It also produced Four Rooms.
Desperado shares the same Sergio Leone and John Woo influences as John Wick and employs a similar, highly-stylised, near-comedic violent streak as seen in Ben Wheatley's Free Fire. Desperado would still be a bona fide hit if released today and deserves its encore.
Banderas was cemented as a star in his portrayal of the mariachi with a guitar case full of guns whilst the future Oscar-nominated Salma Hayek was undeniably a dame to kill for. Riding high after Pulp Fiction, Buscemi's turn builds the mythology of The Mariachi, and Tarantino shines onscreen in what he does best: a short, sharp appearance with snappy dialogue. As for Danny Trejo? He's Danny Trejo. And sometimes that's all you need.
If you've never seen it or if it's been a while, it's well worth giving it another shot.
Which films do you think deserve a second shot?
RS